Yesterday, Nigerian Afropop superstar, Wizkid released his highly anticipated single, "Joro". The song premiered on Ebro Darden's Beats 1 show at 9:55 pm. Its video dropped a few moments later.
The dance track which Wizkid dedicated to the ladies' waists was released alongside a music video.
See video below;
Joro premieres on #beats1 with my guy @oldmanebro at 9:55pm Naija time 4.55pm EST #JORO 🙏❤️ pic.twitter.com/5C0FzziQ8d

— Wizkid (@wizkidayo) September 30, 2019
Since the song dropped, Nigerians have been reacting on Twitter with different views. Some Twitter users bashed the song on the basis of songwriting and terrible content.
Here are some of the tweets below;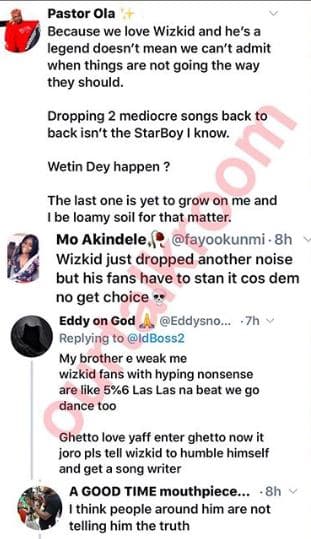 Fake ass influencer anytime wizkid drop a jam…e no dey tire una?😓😓🤣🤣 #Joro pic.twitter.com/S8cGIkmMqG

— Edun jr (@xoxoflash) September 30, 2019
This is your Goat😂😂😂😂😂

WIZKID is singing like an upcoming artiste 😂😂😂 #joro pic.twitter.com/BFCeV71mfN

— British Son 🌍 (@british_son) September 30, 2019
So Wizkid didn't drop single from January till September only to drop one Kolonbiko and Joro 😂😂😂 that you people expect to grow on you 😂😂

Grow Ko Germinate ni

— Dehkunle Of Africa💧 (@Dehkunle) September 30, 2019
– After listening to Wizkid's Joro pic.twitter.com/7WNJ0YqpqJ

— Rash The Greatest. (@IamRashman) September 30, 2019
Damn! I couldn't even finish watching the Wizkid joro video 🤦🏽‍♂️… Both the song and the video are just off… WTH! with those lyrics…So this is the Joro y'all have been anticipating for?…. pic.twitter.com/p09qk7j8W5

— Canadian Landlord 🇨🇦 (@ItsHarlarbi) September 30, 2019
2seconds wizkid Ghetto Love flopped, now he has released joro later his fans will start carrying Photoshoped INVOICE of how the song went Gold in Canada and bronze in Australia… pic.twitter.com/1ciXtAGsPg

— JORDAN (@Talk2jordan_lee) September 30, 2019
Wizkid – Joro
Somebody get this man a songwriter!
Your fave is struggling.

— Obinna Agwu (@d_angrymob) September 30, 2019
This wizkid joro song is pure and complete Trash. That nigga needs a fucking songwriter right now. Second dead song in less than two weeks. His lackadaisical nonsensical lyrics has run its course. He needs to emulate burna boy and write actual complex lyrics. Tired of this shit

— Idealist (@ikoyikid) September 30, 2019
I just listened to Wizkid's Joro, and I'll just leave this herehttps://t.co/D6rnZyL0HP

— Ehis Ohunyon (@ehiscombs) September 30, 2019
Wizkid need to work with songwriters. It wouldn't make him less of a musician. Afrobeat has spread across the globe. People want content and the earlier he realises that his fanbase isn't limited to Surulere, the better for him.
Joro is 2/10 lyrically
Production wise – 8/10

— Onikurrr (@LeryQuess) September 30, 2019
The joro song is not so bad.
Would have been much better with sound lyrics. Sounded like he was chewing mouth. It's becoming a trend for wizkid

He can sing the songs, his name can help with publicity. I think he just needs a good songwriter

— Mo' (@babydollars_) September 30, 2019
What is your opinion pertaining this song Joro by Wizkid?? Drop Your comment below…….